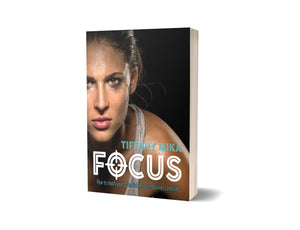 Focus - How To Reach Your Potential In Sport Business & Life
Regular price $29.00 Sale
Focus is a powerful book that enables you to understand how to accomplish your goals in sport, business and life.

Thinking that all you have to do is work harder, will not get you the results unless you have an action game plan in place.
By applying your game plan and using the strategies and action steps outlined in Focus it will give you the confidence that you can win!
Meet Tiff!
Tiffany Mika is author of FOCUS - How To Reach Your Potential In Sport, Business & Life and Founder of Reach Your Potential With Tiff.
Tiff pursued a professional sports career and understands what athletes face when going after their sports dreams. It's a challenging road!
Tiff's helps athletes build confidence and belief in themselves by teaching them how to focus and bring out their best performances in competitions and tournaments.
Testimonials